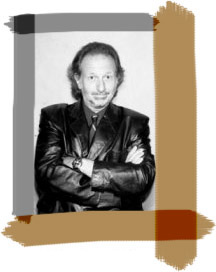 The artist was born in Istanbul, Turkey on 14 December 1947. When he was 13, he moved with his parents to Geneva, Switzerland where he attended the International School of Geneva between 1960-1967. His mother was a ceramic artist and puppet maker. His father; one of the founding members of the Istanbul Philharmonic was also an accomplished concert pianist.
Yaltkaya had piano lessons from about the age of five entering the Istanbul Conservatory of Music about that time. During the latter part of his highschool years in Geneva, he became interested in jazz meanwhile playing with local rock and pop bands. Upon his graduation from highschool in 1967, he arrived in New York City graduating from the School of Economics at NYU. Between 1971-75 he studied arranging and composition at Berklee College of Music. In 1976, he joined the staff of Atlantic Recording Corporation as an arranger and producer where he worked until the end of 1986. Between 1986 and 1995 he freelanced as film composer and musical theatre during which time he entered and became a member of BMI/Lehman Engel Musical Theater Workshop. In 1995 he permanently moved to Los Angeles, California returning back to his original love of jazz performance.
While in New York, he studied classical piano with Thomas Simons and jazz piano with Johnny Bowden and Sir Roland Hanna. At the same time he attended New School where he studied composition with Jimmy Guiffre.
Then when he was in Berklee College of Music, he continued his classical studies with Emanuel Zambelli and afterwards with Margaret Chaloff. In the meantime he also continued his jazz education with Herb Pomeroy, Gary Burton, Mike Gibbs and Steve Swallow. He also studied conducting and classical composition with John Bavicchi, William Maloof and Geranimus Kacynskas. He was most influenced by his private studies with Charlie Banacos during that time period. While he was working full time at Atlantic Recording Corporation, he attended Juilliard School of Music where he studied advanced orchestration with Charles Jones.
He is currently very active as a freelance jazz pianist and composer in Los Angeles where he frequently does live performances and recordings.
He has toured as a jazz pianist in France, Belgium, the Netherlands, Germany, Austria, Switzerland, Poland, Czech Republic, Hungary and Turkey. He also attended jazz festivals in Cuba, Czech Republic, France, Morocco, Romania, and Scotland.
Yaltkaya is the recipient of the DRAMA LOGUE Award for "The Drunk" as "Best Musical Director-1996" for the Chandler Studios.
He is also a member of the BMI/Lehman Engel Musical Theatre Workshop, ASCAP, Local 47 and the Dramatists Guild.
THEATRE
Musicals
·SELENA Book and Lyrics: Brown Caldwell
·THE MONKEY'S PAW Book and Lyrics: Paul Armento
Based on a short story by W.W. Jacob's and a play by Louis N. Parker
·FUNNY KIND OF MIRACLE 10 min. Musical for BMI, Book and Lyrics by Neill Bogan
·DEAR VALDOCS Short Musical w/ libretto by Marilyn Seven Wings Theatre, One-Act Series
·THE GOOSE SINGS LOW Book and Lyrics: Marilyn Seven
Adapted from fables by William Saroyan
·STAR-TOUCHED Book and Lyrics: Frank O'Donnell
·HEARTFELT Book and Lyrics: John D. Sanders
Showcase: New York
·GIGOLETTES Written by Dailey Pike & Cengiz Yaltkaya
INCIDENTAL MUSIC
·THE TEMPEST National Shakespeare Company
·ROMEO AND JULIET National Shakespeare Company
·MONDAY IN THE PARK Wings Theatre, One-Act Series
·THE KNIGHTS OF THE ROUND TABLE Third Step Theatre Company
·ROMEO AND JULIET Arden Party Company (Ohio Theatre New York)
·ORPHANS 23rd rep group – Juilliard Drama Division
·THE SHAMELESS OLD LADY Performance piece with poems by Helen Duberstein (Westbeth)
FILM
Short Feature: Writer and Director
·GOOD MEN
Brian Connors
Featuring Ed Asner and Mark Rydell
Co-composer Tay Uhler
Feature: Director and Distributor
·LOGICAL SECRETS
Noam Ben Shaul, School of Visual Arts, N.Y.
·WINTER
Yitzhak Gol, School of Visual Arts, N.Y.
Winner of Duffy Award
·AUTUMN RAIN
Yitzhak Gol, School of Visual Arts, N.Y.
·LUGGAGE OF THE GODS
David Kendall – Star Media, Inc.
·LADY
Robert Mapplethorpe – PBS
·I WAS A TEENAGE T.V. TERRORIST
Stanford Singer - TROMA
·CURFEW
Gary Winick – New World Pictures
·PUNK
Carl Franklin – American Film Institute, PBS
·DEADLY MANOR
Jose Ramon Larraz – AIP Home Video, Inc.
·OUT OF THE RAIN
Gary Winick – Vision International
·SHADES OF DAY
Written and Directed by Vitaly Sumin
DOCUMENTARY
·FESTIVAL FEVER Willard Morgan, Winner of Enzian Award
Florida Film Festival, 1995
·SKYSTARS Rudy Djabbarzadeh – Intermedia
ALBUM ARRANGEMENTS
·J. Geils Band "Freeze Frame" (EMI/Capital)
·Sesame Street "In Harmony" (Warner)
·Melissa Manchester "Hey Ricky" (Arista)
·Judy Collins "Times of Our Lives" (Elektra)
·Average White Band "Benny and Us" (Atlantic)
·Jim Carroll "Dry Dreams" (Atco)
·Jay McShann "Big Apple Bash" (Atlantic)
·George Carlin (Special Effects)
Various Others..
ALBUM PRODUCTION/CO-PRODUCTION
·Chaka Khan, The Dig, Carly Simon, Herbie Mann (several), Donny Hathaway, Bill Chinnock, Felix Cavaliere, various others..
COMMERCIAL ARRANGEMENTS
·Conoco, Monmouth, Maybeline, NY State (I Love New York), various others..
Discography
RECORDINGS
·(2019) Solid Stuff (Upbeat Swing Orchestra)
·(2017) That Big Band Sound (Upbeat Swing Orchestra)
·(2017) Play it Cool (Upbeat Swing Orchestra)
·(2014) Improvisational Music Part 2 (Trio Aligraya)
·(2013) Improvisational Music Part 1 (Trio Aligraya)
·(2013) RADIO FLYERS, (Han)
·(2010) The Secrets of My Life, Savatije Sava Ljubicic, Composer
·(2010) a.k steps out (Cengiz Yaltkaya Trio)
·(2008) RELAXING AT KARL'S PAD (Karl Marsh)
·(2008) THE FREQUENCY OF NOTHING (Code Zero)
·(2007) ALMOST REAL (with Joe Gaeta)
·(2007) SONGS 4 MY FATHER (Swing 4 Sale)
·(2006) YOU TOOK ME IN (Solvei)
·(2005) WAITING FOR THE BREAD (Carl Tassi)
·(2005) JAZZ BABY 1 (w/ Barbara Morrison, Freddy Cole, Poncho Sanchez, C. Acuna, ...)
·(2005) JAZZ BABY 2 (w/ Barbara Morrison, Freddy Cole, Poncho Sanchez, C. Acuna, ...)
·(2005) JAZZ BABY 3 (w/ Barbara Morrison, Freddy Cole, Poncho Sanchez, C. Acuna, ...)
·(2005) THE CHURCH OF THE LITTLE BLACK DOG (Joel Penner)
·(2005) SWING 4 SALE (Swing 4 Sale)
·(2004) JAZZ WORLD COLORS (Maurice Gainen)
·(2003) VISITS (with Eldad Tarmu)
·(2003) LIVE RECORDING in B FLAT in BERLIN, GERMANY (Eldad Tarmu Quartet)
·(2003) EXOTIC TALES (with Eldad Tarmu)
·(2003) VENICE CAFE (Joe Gaeta)
·(2003) JUST 4 U (Tony Moreno)
·(2003) CALIFORNIA (Jodi Fodor)
·(2002) JAZZ BABY (Arranged/Performed by Cengiz Yaltkaya)
(Recipient of Film Advisory Board of Excellence Award)
·(2002) PEGGY in CONCERT (Peggy Judy)
·(2002) SAYANORA LOVE THEME - SONGS FROM SHOGUN AND OTHER ASIANA (June Angela)
·(2002) DRAGON JAZZ (Joel Penner)
·(2001) GIGOLETTES (Written & Composed by Dailey Pike and Cengiz Yaltkaya)
·(2001) MOOD SWINGS (Steve Blackwood)
·(2000) GET UP CLOSE (with Eldad Tarmu)
·(2000) PACIFIC JAZZ QUARTET (Allen Kelinsky)
·(2000) HOLLYWOOD JAZZ COLLECTIVE (Brandon Walker)
·(2000) JUNE ANGELA (June Angela)

PERFORMANCES
FESTIVALS: (in alphabetical order according to the country)
Spring Jazz Festival (Croatia)
Brussels Jazz Festival (Belgium)
Havana Jazz Fest (Cuba)
French Anti Racism Festival (France)
Festival de Jazz Equinoxe (France)
Opening of the Casablanca Jazz Festival(Morocco)
Bucharest Jazz Festival(Romania)
Edinburg Fringe Festival (Scotland)
Eagle Rock Music Festival (USA)
Monteray Hills Jazz Festival (USA)
Otis Arts Festival (USA)
Sierra Madre Jazz Festival (USA)
SOME OF THE VENUES
Los Angeles County Museum, Los Angeles Museum of Contemporary Art, Jazz Bakery Knitting Factory, Rocco's, and various others...
THE COUNTRIES
Austria, Belgium, Croatia, Cuba, Czech Republic, France, Germany, Holland, Hungary, Jordan, Morocco, Poland, Romania, Scotland, Serbia, Switzerland, Turkey, and USA.